Host/Narrator
Les Stroud
Broadcast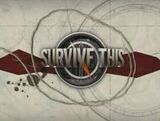 Cartoon Network: 6/17/2009 - 8/19/2009
Packager
9 Story Entertainment
Survive This was a short-lived import from Canada that follows a group of eight teenagers with limited survival skills training are taken into a forest and confronted with a number of survival challenges to test their skills and perseverances.
The show originally aired in Canada on YTV for two seasons from April 7, 2009-July 12, 2010
Cartoon Network in the states ceased to air the show on August 19, 2009 and screened the last three episodes on their website.
The show was originall titled Survivorman:Kids Edition. However, the concept soon changed and was once again retitled as Survivorman Kids.
Unlike other reality shows did not have a cash prize or reward at the end of the season. Instead, Stroud visits the participants re-assessing their physical and emotional state and asking whether anyone wishes to leave the show and go home.
Ad blocker interference detected!
Wikia is a free-to-use site that makes money from advertising. We have a modified experience for viewers using ad blockers

Wikia is not accessible if you've made further modifications. Remove the custom ad blocker rule(s) and the page will load as expected.