Host
Hal Sparks
Broadcast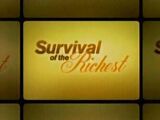 The WB: 3/31/2006 - 5/5/2006
Packager
Zodiak USA
Survival of the Richest featured seven "rich kids" with a combined total of over $3 billion who were forced to work together with seven "poor kids" who had a combined debt of $150,000 through a series of challenges to win the grand prize of $200,000.
One team will be eliminated leaving only six teams with the chance to walk away with a grand prize of $200,000.
Ad blocker interference detected!
Wikia is a free-to-use site that makes money from advertising. We have a modified experience for viewers using ad blockers

Wikia is not accessible if you've made further modifications. Remove the custom ad blocker rule(s) and the page will load as expected.