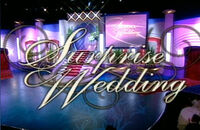 Surprise Wedding
was a reality wedding show.
Broadcast
Edit
FOX: 2000-2001
Shannon Roghair
Kathleen McClellan
Five women brought their long term boyfriends who weren't quite ready to commit to Las Vegas, Nevada, where they thought they were going to take part in a makeover show. Once there, the men were shocked to realize they were tricked, and their girlfriends were actually trying to get them to marry them in front of a television audience.

Ad blocker interference detected!
Wikia is a free-to-use site that makes money from advertising. We have a modified experience for viewers using ad blockers

Wikia is not accessible if you've made further modifications. Remove the custom ad blocker rule(s) and the page will load as expected.