Host
Rihanna
Mentors
Pharrell Williams
Erin Wasson
Mel Ottenberg
Broadcast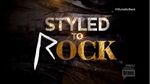 Bravo: 10/25/2013-12/27/2013
Packagers
Marcy Media Films
Overbrook Entertainment
Shed Media
Styled to Rock is a style-themed reality-competition show where up-and-coming designers create looks for celebrities. Based on the British series of the same name.
Similar to Project Runway, the series is also looking for new designers to create fashion for A-list celebrities. Supported by their mentors, the candidates who were chosen as well as their mentors all by Rihanna personally, fight in a weekly battle for the final. Weekly, the candidates design outfits for one or more music celebrities. Normally, the celebrities select the winners by themselves. So every week their is a winner. but also two candidates who have to assert themselves in conversation again, until finally, the worst of the week will be suspended. In the final, the two best designers fight to win the $100,000 cash prize, a fashion feature In Glamour Magazine and the chance to be come the next member of Rihanna's design team.
British Version
Edit
The original British Version (also hosted by Rihanna) briefly aired on Sky Living from 14 August (August 14) until 16 October (October 16) 2012. It has Henry Holland, Nicola Roberts and Lysa Cooper as The Mentors along with Reggie Yates as the voiceover.
The show was originally scheduled to premiere on November 5, 2013, on the Style Network. However, two weeks before its premiere September 23, 2013 debut, the Esquire Network was announced as taking over Style's channel space, rather than G4 as originally planned. It was announced on September 30, 2013, that the series will premiere on Bravo.

Official website
An article about the original British Version (courtesy of ukgameshows.com)
Ad blocker interference detected!
Wikia is a free-to-use site that makes money from advertising. We have a modified experience for viewers using ad blockers

Wikia is not accessible if you've made further modifications. Remove the custom ad blocker rule(s) and the page will load as expected.