Hosts
Pat Harrington Jr.
Mike Stokey
Announcers
Bill Baldwin
Bob Gilles
Broadcast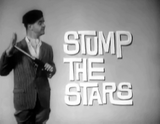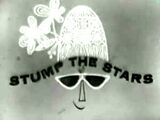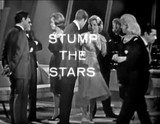 CBS: 9/17/1962-9/16/1963
Syndication: 2/24/1964-9/2/1964, 9/8/1969-9/25/1970
Packager
Mike Stokey Productions
Stump the Stars is the revival of Mike Stokey's Pantomime Quiz that has the same celebrity action as before.
Merchandise
Edit
A board game based on this version was manufactured by Ideal in 1962.
Flyer Ads
Edit
CBS Television City, Hollywood, California
Stump the Stars @ Classic TV Info
List of Stars that appeared on the 1964 version of Stump the Stars

YouTube Video
Edit
Ad blocker interference detected!
Wikia is a free-to-use site that makes money from advertising. We have a modified experience for viewers using ad blockers

Wikia is not accessible if you've made further modifications. Remove the custom ad blocker rule(s) and the page will load as expected.