Host
Jeannie Mai
Judges
Kate "Kato" Lambert
Matt King
Thomas Willeford
Broadcast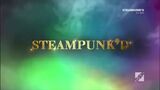 GSN: 8/19/2015 - 10/14/2015
Packager
Pink Sneakers Productions
Steampunk'd is a reality competition series where it seeks to discover the most talented and versatile steampunk designer in America.
Ten contestants (a.k.a "Makers") are challenged to marry objects from the past and present in order to create impressive futuristic designs. Dramatic reveals each week will build to a grand finale of a fully realized "Steampunk'd" manor and the winner will take home a $100,000 grand prize.
The series aired after the second season finale of Skin Wars.
The sole winner for this series was Edward Thayer.
Official Website
Contestant's Profile
A Review of Steampunk'd (courtesy of Game Show Garbage)
Ad blocker interference detected!
Wikia is a free-to-use site that makes money from advertising. We have a modified experience for viewers using ad blockers

Wikia is not accessible if you've made further modifications. Remove the custom ad blocker rule(s) and the page will load as expected.