Hosts (1992)
Scott Baio
Rain Pryor
Brian Austin Green
Bob Golic
Phil Moore
Hosts (1993)
Alfonso Ribeiro
Downtown Julie Brown
Randy "Macho Man" Savage
Joey Lawrence
Josie Bissett
Dawnn Lewis
Broadcast (Syndication)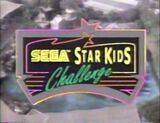 Sega Star Kids Challenge: 1992

Star Kids Challenge: 1993
Packager
Heaven Entertainment
The special competition were celebrity contenders face off in crazy but amazing challenges for their favorite charities.
Aqua Acrobats

Blazing Blue Barbarians

Courageous Coral Crusaders
Fabulous Fuchsia Team
Brandon Call
Nicole Dubuc
Chelsea Hertford
Adam Jeffries
Haylie Johnson
Mario Lopez
Carol-Ann Plante
Jill Setter
Taran Noah Smith
Olivia Burnette
Corey Carrier
Joey Lawrence
Ashlee Levitch
Kellie Martin
Jeremy Miller
Josh Saviano
Jodie Sweetin
Tiffani-Amber Thiessen
Mayim Bialik
Janel Bishop
Zachery Ty Bryan
Josh Byrne
Mark-Paul Gosselaar
Sylver Gregory
Matthew Lawrence
Brittany Murphy
Danny Pintauro
Candace Hutson
Ashley Johnson
A.J. Langer
Darius McCrary
Christopher Pettiet
David Rhoden
Jonathan Taylor Thomas
Jenna Von Oy
Angela Watson
M.A.D.D
Easter Seals
Make-A-Wish
United Cerebral Palsy
Green Team

Blue Team

Yellow Team
Red Team
Justin Burnette
Michael Fishman
Omar Gooding
Candace Hutson
A.J. Langer
Jenna Von Oy
Lark Voorhies
Christopher Castile
Nicole Dubuc
Ashley Johnson
Darius McCrary
Brittany Murphy
Kelly Packard
Jonathan Taylor Thomas
Michael Cade
Brandon Call
Soleil Moon Frye
Haylie Johnson
Taran Noah Smith
Hilary Swank
Countess Vaughn
Josh Byrne
Chelsea Hertford
William James Jones
Ashlee Levitch
Cirroc Lofton
Carol-Ann Plante
Angela Watson
Easter Seals
Heal the World
Make-A-Wish
United Cerebral Palsy
Universal Studios Hollywood
Universal Studios Florida
YouTube Links
Edit
Sega Star Kids Challenge 1992: Part 1, Part 2, Part 3, Part 4, Part 5, Part 6, Part 7, Part 8
Star Kids Challenge 1993: Part 1, Part 2, Part 3, Part 4, Part 5, Part 6
Ad blocker interference detected!
Wikia is a free-to-use site that makes money from advertising. We have a modified experience for viewers using ad blockers

Wikia is not accessible if you've made further modifications. Remove the custom ad blocker rule(s) and the page will load as expected.