Hosts/Chauffeurs
Jordan Black (season 1)
Reggie Gaskins (Season 2)
Broadcast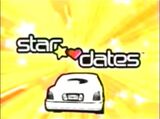 E!: 12/15/2002 - 9/20/2003
Packager
E! Entertainment Television
Star Dates was a short-lived reality dating show that sets up blind dates between ordinary people and actual B-list celebrities.
The series consisted of ordinary people going on blind dates with B-list celebrities. Butch Patrick appeared on the first show. Other celebrities included: Dustin Diamond, Kim Fields, Gary Coleman, Phyllis Diller, Jill Whelan and Jimmie Walker. Series host Jordan Black (and later Reggie Gaskins in season 2) also serves as each couples chauffeur while they were on their date.

Ad blocker interference detected!
Wikia is a free-to-use site that makes money from advertising. We have a modified experience for viewers using ad blockers

Wikia is not accessible if you've made further modifications. Remove the custom ad blocker rule(s) and the page will load as expected.