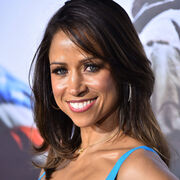 Stacey Lauretta Dash (born January 20, 1967) is an American actress and talk show host, best known for co-starring in the 1995 feature film Clueless and the television series spinoff of the same name. She has also appeared in films such as Moving, Mo' Money, Renaissance Man and View from the Top. Other television work by Dash includes appearances in series such as CSI: Crime Scene Investigation, Single Ladies and the reality television show Celebrity Circus. She has also appeared in music videos for Carl Thomas' "Emotional" and Kanye West's "All Falls Down". Dash was a co-host on Fox News Channel talk show Outnumbered.
Ad blocker interference detected!
Wikia is a free-to-use site that makes money from advertising. We have a modified experience for viewers using ad blockers

Wikia is not accessible if you've made further modifications. Remove the custom ad blocker rule(s) and the page will load as expected.