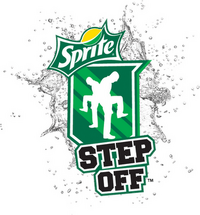 Nine organizations of the national Pan Hellenic Council have partnered with Sprite Step-Off to launch the most dynamic multicultural youth event of 2009.
Broadcast
Edit
MTV2 01/31/10-03/07/10
Ludacris
Sprite Step-Off is the largest college Greek stepping competition ever, featuring over 30 events in more than 20 cities, with the largest combined stepping prize pool in history with $1.5 million in scholarships up for grabs.
Sprite Sodas powered by Coca Cola Beverage Brands
Ad blocker interference detected!
Wikia is a free-to-use site that makes money from advertising. We have a modified experience for viewers using ad blockers

Wikia is not accessible if you've made further modifications. Remove the custom ad blocker rule(s) and the page will load as expected.