Hosts
Johnathan F. McClain
The Players
Tim Dorsch
Julia Kay
Vanessa Lengies
Scott Irby-Rannier
Miles Thompson
Louie Torrellas
Lori Wells
Announcer/SID
Karen Fowler
Broadcast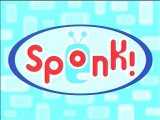 Noggin/The N - 9/10/2001 - 3/30/2002, 4/1/2002 - 1/2003 (repeats)
Packagers
Insight Productions/Sesame Workshop
A somewhat of a junior spinoff of Whose Line is it Anyway?.
Two teams of three performers competed in a series improv-typed comedy games, which were all suggestions sent in by home viewers. The suggestions were announced by S.I.D. (Suggestion and Idea Distributor) (voiced by Karen Fowler).
Here are some of the games featured on the show:
Action Figure Theater
Armpit Chef/Drama
Dr. Allspeak
Ballet
Buy This
Conducted Whatever/Story Survivor
Identity Crisis
Letter Rip
SponkMart/Workaholic
Where's Your Homework?
On some games, members of the studio audience voted on which team they thought was best with the best team receiving 100 points, if it was the final game of the day they scored 201 points+. On some others, teams scored 50 points a pop with the help of an audience member. There were also games which was abut eliminating all members of the opposing team.
+ - the extra point was most likely to prevent a tie
The team with the most points won the game and a Sponk! Trophy, which was actually a gold spray painted rubber chicken. In addition, a lucky home viewer who just logged on to the Noggin website won a grand prize.
Sponk! Challenges
Edit
Two Sponk! challenges were played each show. The first was where a member of the team that won the second game create a challenge for the opposing team. The second was the "Mondo Sponk Challenge" where host Johnathan set up a challenge for the losing team.
Ad blocker interference detected!
Wikia is a free-to-use site that makes money from advertising. We have a modified experience for viewers using ad blockers

Wikia is not accessible if you've made further modifications. Remove the custom ad blocker rule(s) and the page will load as expected.