Host
Larry Hoff
Broadcast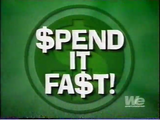 WE: 2002
Packagers
Atlas Media Corporation
Telepictures Inc.
Warner Bros. International
$pend it Fa$t! (or Spend it Fast!) was a short-lived reality game show where contestants would have five minutes to purchase the largest number of items at an exclusive store (similar to Shop 'Til You Drop).
The series features a limo that will tour the chosen city, randomly selecting and surprising people at their homes. The contestant is then challenged to spend thousands of dollars in an exact amount of time at a randomly chosen retail outlet. Unexpected challenges and obstacles along the way keep the game fresh and exciting. If the contestant grabs all she can in the allotted amount of time and stays within the money limit, she can keep it all, but if not, she goes home empty-handed. Current store sponsors include: Bloomingdale's and Linens N' Things.
Bruce David Klein
WE: Women's Entertainment to Produce Reality Game Show "Spend It Fast"
YouTube Video
Edit
Ad blocker interference detected!
Wikia is a free-to-use site that makes money from advertising. We have a modified experience for viewers using ad blockers

Wikia is not accessible if you've made further modifications. Remove the custom ad blocker rule(s) and the page will load as expected.