Host
Rebecca Romijn
Judges
RuPaul
Craig Tracy
Robin Slonina
Broadcast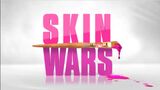 GSN: 8/6/2014 - 6/29/2016
Packager
Michael Levitt Productions
Skin Wars is a reality competition series that seeks to find the most talented and versatile body painters in the country.
This hour-long competition series seeks to find the most skillful, accomplished and versatile body painters in the country among the ten hopeful contestants with the winner of the competition receiving a $100,000 cash prize, a one year supply of paint and will be the featured guest artist at IMATS, the premiere body painting trade show in New York City.
Skin Wars: The Naked Truth
Edit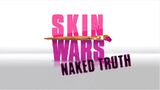 An after show of the series hosted by YouTube Star Kandee Johnson will be on GSN's Door 3 immediately after the Wednesday night broadcast from Aug.6 until Sep.24 as this will mark GSN's first companion show to run on its digital network, which targets to 18-to-25 year olds.
Each episode will have Johnson recap the show's highlights while offering her perspective and opinion. In addition, there will also be a segment called The Skinterview where Johnson will chat with Skin Wars contestants, judges and models while views of the after show will be tasked to guess the next contestant to be eliminated from the competition with participants entered into an online sweepstakes for prizes.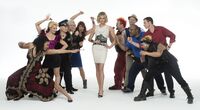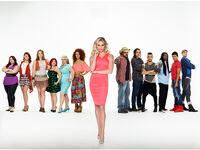 International Airings
Edit
In Australia, the series aired on LifeStyle You since May 26 2015.
In Brazil, the series aired on Multishow since 2016.
In Canada, the series aired on Game TV since 2015, additionally the series also airs on GSN in their own cable/satellite companies that air the channel.
In the United Kingdom, the series aired on TruTV since 2015.
In Season 1, 10 body painters competed while in season 2 and 3, 12 body painters competed.
RuPaul not only serves as one of the judges on the show but has also hosted/Executive Produced his own special called Skin Wars: Fresh Paint which aired on August 26, 2015.

Related Show
Edit
Skin Wars: Fresh Paint - a spiritual spinoff special hosted by RuPaul that also aired on GSN in 2015.
Official Website
Official Facebook Page
Official Twitter Page