Host
Tom Bergeron
Broadcast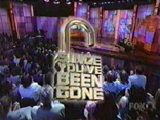 FOX: September 11, 2000
Packager
LMNO Productions
Since You've Been Gone is the one-episode only hour-long special that takes four people out of society for a week and then quiz them on current news events that happen during that week for a trip around the world.
Four contestants are isolated from any and all sources of news, gossip or current events for one week. At the end of seven days, they are quizzed on current events and occurrences in their personal lives while they were sequestered. the contestant who most accurately guesses what has transpired during the week wins a trip around the world.
In round one, five seemingly plausible news items are read, with the contestants guessing whether each was Fact or Fiction. Five points were awarded for right answers. In round two, 10 points were awarded to a player who could determine which of three news stories presented by newscaster Steve Edwards was true. After that, three 10-point multiple-choice questions. In round three, four multiple-choice questions are worth 15 points each. Round Four consists of another set of stories from Edwards for 20 points, and a non-scoring and time-wasting question involving a friend or family members of one of the players. The final question, worth one-half of the leader's score, featured an in-studio guest and four stories about that person, one of which was true.
YouTube Video
Edit
Full Episode
Edit
Part 1
Part 2
Part 3
Part 4
Part 5
Ad blocker interference detected!
Wikia is a free-to-use site that makes money from advertising. We have a modified experience for viewers using ad blockers

Wikia is not accessible if you've made further modifications. Remove the custom ad blocker rule(s) and the page will load as expected.