Host
Zero Kazama
Broadcast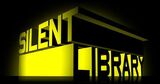 MTV: 6/15/09-5/13/11
Silent Library was a basic stunt and dare show with a twist - it takes place in an actual library. Not only do the players have to perform silly and sometimes embarrassing stunts, but they have to try to not make any noise in the process in order to win cash.
Based on a game segment of the Japanese variety show Downtown's 'This is no task for kids!! (ダウンタウンのガキの使いやあらへんで!! Downtown no Gaki no Tsukai ya Arahende!!)
Catchphrase
Edit
"YOU HAVE FAILED!" - Zero Kazama (2008-2011)
"SILENCE!"