Starring
Lenny S
Rick Ross
The-Dream
Broadcast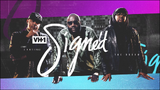 VH1: 7/26/2017-present
Packager
MGM Television
Signed (also known as VH1 Signed) is a reality music-themed competition series where it followed three music moguls (Lenny S, Rick Ross and The-Dream respectively) as they work to develop unsigned hip-hop and R&B (Rhythm & Blues) artist in Atlanta, Georgia.
The series featured aspiring musicians who will undergo auditions and workshops to home their craft and determine if they really have what it takes to get signed to a deal. Through personal sessions with the music moguls and surprise visits from superstars like: DJ Khaled, Meek Mill and Bangladesh, these young artist will face challenges and eliminations as they work their way toward a finale performance showcase. The artist who most impress the moguls have an opportunity to be signed to Maybach Music, Radio Killa Records or Roc Nation.
Ad blocker interference detected!
Wikia is a free-to-use site that makes money from advertising. We have a modified experience for viewers using ad blockers

Wikia is not accessible if you've made further modifications. Remove the custom ad blocker rule(s) and the page will load as expected.