Host
Brent Gunts
Broadcast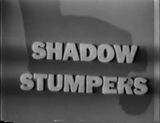 WAAM/WBAL (Weekly): 8/1949 - 1956
Shadow Stumpers was a game show for people in the Baltimore area.
Two families competed to figure out what the shadows are behind a silhouette curtain. The home audience also participated in certain shadows via phone.
Ad blocker interference detected!
Wikia is a free-to-use site that makes money from advertising. We have a modified experience for viewers using ad blockers

Wikia is not accessible if you've made further modifications. Remove the custom ad blocker rule(s) and the page will load as expected.