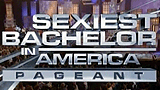 Sexiest Bachelor in America Pageant was a short-lived male beauty pageant special aired on American television. Held in Las Vegas, Nevada.
Broadcast
Edit
FOX: October 2, 2000
Runners-Up
Edit
1st/Matt Thomas/Illinois
2nd/Matt Funk/South Dakota
3rd/Reed Randoy/Arizona
4th/Blair Dickens/Louisiana
Tom Gill of Virginia was the winner of the special.
Mr. Massachusetts, Ben Mezrich, who did not place, wrote the book about Facebook that the movie The Social Network was based on.
Top 10 semifinalist Billy Jeffrey later became a Chippendales dancer and was a Season 1 contestant on True Beauty.
Mr. Maryland, Teddy Sears, later became an actor on One Life to Live.
Ad blocker interference detected!
Wikia is a free-to-use site that makes money from advertising. We have a modified experience for viewers using ad blockers

Wikia is not accessible if you've made further modifications. Remove the custom ad blocker rule(s) and the page will load as expected.