Hosts
Scott Lasky (Captain of the Blue Team)
Carol Grow (Captain of the Red Team)
Broadcast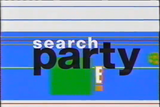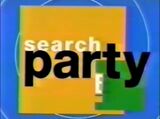 E!: 11/27/1999-10/3/2000
Packager
E! Entertainment Television
Search Party was a reality game show that had celebrity contestants and E! viewers compete on two different teams as they played super wacky and crazy games. This show was a spin-off from Sandblast.
There were two teams (blue & red) with two celebrities and two E! viewers. The teams competed in wacky and crazy challenges for points and prizes. Whoever had the most points at the end of the game won. The show would usually take place at beaches and hotels with pools in them.
YouTube Videos
Edit
Chocolate Game. WARNING! ADULT CONTENT!
Shaving Cream Game
Another Shaving Cream Game
Pasta Game
Fruit Juice Game

Ad blocker interference detected!
Wikia is a free-to-use site that makes money from advertising. We have a modified experience for viewers using ad blockers

Wikia is not accessible if you've made further modifications. Remove the custom ad blocker rule(s) and the page will load as expected.