Host
Emma Wilson (Daughter of Anne Robinson)
Broadcast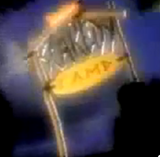 Nickelodeon, Nick GAS: 10/27/2002 - 8/16/2003
This is a game based on an actual legend. Two teams will have four days and five nights to investigate the ghost story that haunts their camp. By day, they'll play. By night, they'll fight their fright and collect clues to put the ghost, behind the ghost story, to rest. Scaredy Camp is now in session!
Scaredy Camp was a children's reality show on Nick GAS and Nickelodeon where two teams compete to find clues about true legends in their summer camp that they attend.
Gameplay and Premise
Edit
Two teams of three kids compete and find out about the scary facts that haunts their camp. Whichever team found the legend and the monster (and was not scared) won the game. The show was set at Camp Lindermere in Pennsylvania, but most refer to it as "Camp Lindenwood".
Liz Sommers (nee Becker)
YouTube Video
Edit