Host (Master of Scare-a-Monies)
Redman (a.k.a. Reginald "Reggie" Noble)
Broadcast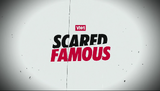 VH1: 10/23/2017-present
Packager
GaspinMedia
Renegade 83 Entertainment
Scared Famous (or VH1 Scared Famous) is a new spine-chilling reality competition series where ten of the biggest reality stars as they try to endure gruesome challenges and terrifying scares that pay homage to recent horror hits.
Over two weeks, these ten celebrities will move into an eerie estate in Savanna, Georgia, one of America's most haunted cities, and test their limits for a chance to donate $100,000 to his or her favorite charity. They must rely on alliances, strategy and friendships but supernatural forces beyond their control may be their true undoing.
Ad blocker interference detected!
Wikia is a free-to-use site that makes money from advertising. We have a modified experience for viewers using ad blockers

Wikia is not accessible if you've made further modifications. Remove the custom ad blocker rule(s) and the page will load as expected.