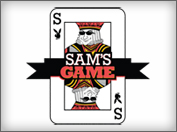 Sam's Game was a short-lived reality celebrity poker game show hosted by Sam Simon, who co-developed The Simpsons.
Broadcast
Edit
Playboy TV 2009
Celebrities played Texas Hold Em at Hugh Hefner's private sky villa at the Palms Resort. The surprising part about this game is that the money that the celebrities played for was their actual money, not charities. 
Ad blocker interference detected!
Wikia is a free-to-use site that makes money from advertising. We have a modified experience for viewers using ad blockers

Wikia is not accessible if you've made further modifications. Remove the custom ad blocker rule(s) and the page will load as expected.