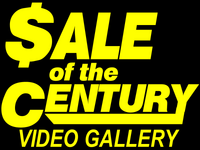 Today & everyday on America's biggest bargain sale, you'll see contestants answer questions, buy prizes and continue a journey towards a fortune in cash & prizes, including a car and at least $50,000! In total, over $100,000 at the (echoing) Sale of the Century Video Gallery.
Full Episodes
Edit
Temptation
Edit
Ad blocker interference detected!
Wikia is a free-to-use site that makes money from advertising. We have a modified experience for viewers using ad blockers

Wikia is not accessible if you've made further modifications. Remove the custom ad blocker rule(s) and the page will load as expected.