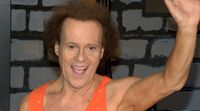 Richard Simmons (b. 7/12/1948) is an American fitness guru, actor and comedian. He is best known through his weight loss programs, "Sweatin' to the Oldies". Other than his fitness career, he has made several game show appearances as a celebrity contestant.
Shows Appeared
Edit
Ad blocker interference detected!
Wikia is a free-to-use site that makes money from advertising. We have a modified experience for viewers using ad blockers

Wikia is not accessible if you've made further modifications. Remove the custom ad blocker rule(s) and the page will load as expected.