Hosts
Joe Bastianch
Tim Love
Waylynn Lucas
Broadcast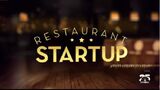 CNBC: 7/8/2014-present
Packagers
JB Crushed
Shine America
Restaurant Startup is a reality competition series where they are on a quest to discover, invest in and launch America's next generation of epicurean superstars.
Two teams are challenged to launch a campaign and business plan for a speciality food concept. Each week, two teams will make their case to their investors (Joe Bastianch & Tim Love) for a shot at launching a temporary version of their great concept for a restaurant or a specialit food shop. Then they'll open the doors and test the concept on the public. At the end of the process, the two investors will decide as to whether or not they will put their own money on the line to make someone's dream come true.
The show's slogan is "You Impress. We Invest".
Ad blocker interference detected!
Wikia is a free-to-use site that makes money from advertising. We have a modified experience for viewers using ad blockers

Wikia is not accessible if you've made further modifications. Remove the custom ad blocker rule(s) and the page will load as expected.