Host
Robert Irvine
Broadcast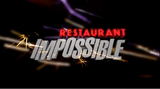 Food Network: 1/19/2011-5/4/2016
Packagers
Marc Summers Productions
Shooters TV Productions
Restaurant: Impossible is a spin-off reality game show of Dinner: Impossible.
The premise is similar to Dinner but with a restaurant twist. Chef Irvine is given a task by the manager of a failing restaurant. The mission is to renovate the restaurant and make it better. The team at the restaurant has to make the restaurant better by using budgets wisely by Irvine helping them plan for the new decor, overseeing the cleaning of the restaurant, reduces the size of the menu and improves the food, develops a promotional activity, educates the restaurant's owners, or training the staff. If successful, they win the game.
Ad blocker interference detected!
Wikia is a free-to-use site that makes money from advertising. We have a modified experience for viewers using ad blockers

Wikia is not accessible if you've made further modifications. Remove the custom ad blocker rule(s) and the page will load as expected.