Host
John Byner

Assistant
Stacey Kim Haley
Announcer
John Harlan
Broadcast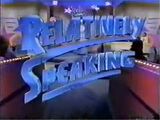 Syndication (Daily): 9/5/1988 - 6/23/1989
Packagers
Kushner-Locke Company
The Maltese Companies
Distributor
Select Media Communications
"Welcome to "Relatively Speaking", the show that climbs into the branches of the world's most celebrated family trees. And to play today's game, here's our celebrity panel (insert the four celebrity panelists) and here's the star of "Relatively Speaking", John Byner!"
Relatively Speaking was a syndicated game show where four celebrities tried to identify a famous person who is related to an in-studio contestant.
Main Rounds
Edit
In the first two (later three) rounds, the celebrity panel asked yes or no questions to the contestant. The panelist in control kept asking questions until he/she got a "no" (similar to What's My Line? and the later series Figure it Out).
The contestant won a growing prize package for each "no" answer. If the panel got eight "no" answers (unlike What's My Line? in which they're allowed 10), they were stumped and the contestant won a grand prize package (dubbed the "Super Stumper Jackpot").
Final Round: Celebrity Round
Edit
In the final round of the day, the final contestant(s) appeared along with another celebrity guest who is related to that player. Each & every one of them hidden away from the panel by a partition which slides out from the front wall. The contestant still wins an accumulating prize package; and regardless if the panel gets stumped this time around or not, the celebrity's winnings got donated to charity.
Before the first round of gameplay, a video clip was shown of Byner impersonating a famous character or person while explaining the rules of the game, an example on the premiere showing him impersonating Indiana Jones.
Trade Ads
Edit
Inventors
Edit
David Garber
Bruce Kalish
Michael Poryes

YouTube Links
Edit
Here's the premiere episode of Relatively Speaking.