Hosts
Bill and Giuliana Rancic
Bachelors
Ben Patton
Tim Lopez
Ernesto Arguello
Matchmakers
Tracy McMillan
Amber Kelleher-Andrews
Matthew Hussey
Broadcast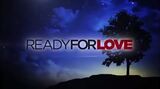 NBC: 4/9/2013 - 4/23/2013 (until 4/4/2013 at NBC.com)
Packagers
Renegade 83 Entertainment
UnbeliEVAble Entertainment
Universal Television
Ready For Love  (not to be confused with the 1974 or the 2001 song by Bad Company and India Arie of the same name respectively) was a short-lived, two episode only, celebrity-driven reality dating series where three of America's most eligible celebrity bachelors search for their soul mates.
The Show is a Matchmaking show with the goal of finding romantic partners for three eligible bachelors who were Dallas-based financier Ben Patton, Santa Barbara-based Plain White T's member Tim Lopez and Miami-based entrepreneur Ernesto Arguello. Eligible women applied online to matchmakers Amber Kelleher-Andrews, Tracy McMillan and Matthew Hussey. Each of the three bachelors has a field of twelve bachelorettes that has been chosen for him: each matchmaker selects four women per bachelor. The women applied via a specially designed Facebook app that introduces the participants via Ready For Love Facebook page as well as a Facebook timeline. The intent is that as the season evolves each of the three bachelors will find a romantic partner from among the twelve bachelorettes chosen for him as the audience observes the process.

The series was produced by former Desperate Housewives star Eva Longoria. Prior to this, Longoria has even started dating former contestant Ernesto Arguello in 2013.
The series only aired twice and was replaced by Grimm on April 30, 2013.
The remaining six episodes would be placed online day-and-date on Tuesdays via the network's website, Hulu, the network's cable video on demand service, iTunes and Amazon Video for purchase, until the June 4 finale.
The A.V. Club website gave the show's premiere a grade "F", calling it "a catastrophe of a television show", "pure evil", "boring, superficial, and bland" and its treament of the contestants "despicable".
Former beauty pageant winner and star of GSN's Lingo and PlayMania Shandi Finnessey has once appeared as a contestant in this short-lived series.
Official Website
Official Fabook Page
Eva Longoria dating Ready For Love bachelor
Ready For Love's Shandi Finnessey Talks Why She Wanted To Be on the Show Before Seeing Ernesto's Video In An Exclusive Interview on AfterBuzz TV 
Ad blocker interference detected!
Wikia is a free-to-use site that makes money from advertising. We have a modified experience for viewers using ad blockers

Wikia is not accessible if you've made further modifications. Remove the custom ad blocker rule(s) and the page will load as expected.