Hosts
Ken Roberts (1944-December 1949)
Bill Cullen (December 1949-1952)
Bobby Sherwood (March-May 1953)
Bud Collyer (May 1953-1954)
Broadcast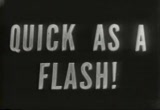 Mutual Radio: 7/16/1944 - 12/17/1949
ABC Radio: 12/12/1949 - 6/29/1951
NBC Pilot: 1952
ABC Primetime: 3/12/1953 - 7/2/1953, 9/10/1953 - 2/25/1954
Packagers
Bernard Prockter Productions (1944-1951)
Prockter-Lewis Productions (1952-1953)
Moss and Lewis Productions (1953-1954)
Quick as a Flash was a radio (later TV) game show where contestants have to solve mysteries.
Six contestants from the studio audience competed for cash and other prizes. Clues were presented in the form of dramatic sketches covering such subjects as current events, movies, books and historical situations. With a buzzer, a contestant could interrupt at any time to submit an answer. Each celebrity could answer once per subject and their partners were each allowed two guesses.
A fan-made creation of the show was created in 2014 based on the show's premise using The Sims 2 PC game. It runs for 22 minutes and uses incidental music that reflects the show's era. The show can be seen here.
Quick As A Flash @ The Game Show Pilot Light
Quick As A Flash @ Game Show Utopia
YouTube Videos
Edit
A full episode from September 28, 1950
The full 1952 TV pilot
Ad blocker interference detected!
Wikia is a free-to-use site that makes money from advertising. We have a modified experience for viewers using ad blockers

Wikia is not accessible if you've made further modifications. Remove the custom ad blocker rule(s) and the page will load as expected.