Host
Michael Young
Broadcast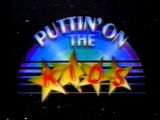 Syndication: 1986-1987
Packagers
Dick Clark Productions
Chris Bearde Productions
Distrbutor
MCA Television
Puttin' on the Kids is a short-lived kids spinoff of Puttin' on the Hits where kid contestants (ages 6 to 12) lip-synch to their favorite recording artist. Celebrity judges award savings bonds to two weekly winners.
Similar Shows
Edit
Puttin' on the Hits
Lip Service
Great Pretenders
Lip Sync Battle
Video Links
Edit
Tiffany Brisette
Puttin' on the Kids - "Sussido" (1986)
Announcment of the winners
Heather O'Rourke
Edit
Heather as a Celebrity Judge
Heather Performing
Heather Post-Performance Interview

Ad blocker interference detected!
Wikia is a free-to-use site that makes money from advertising. We have a modified experience for viewers using ad blockers

Wikia is not accessible if you've made further modifications. Remove the custom ad blocker rule(s) and the page will load as expected.