Broadcast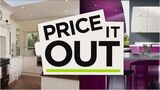 DIY Network: 3/7/2012 - 6/6/2012
Packager
Meetinghouse Productions
Price It Out is a funny, half-hour quiz.
Each 30 minute episode presents five different pairs of new rooms and viewers are asked to guess which renovation cost more to complete. Rooms include: bathrooms that are transformed from grimy to gorgeous; stylishly organic kitchen renovations; backyard dream pools; posh luxurious libraries; modern mudrooms and patio projects with water features and walls that wow. In season two, some episodes featured the costs for a pair of historic homes, two new dining rooms and two ultra-luxe garages.
Ad blocker interference detected!
Wikia is a free-to-use site that makes money from advertising. We have a modified experience for viewers using ad blockers

Wikia is not accessible if you've made further modifications. Remove the custom ad blocker rule(s) and the page will load as expected.