Host
Frank Nicotero
Broadcast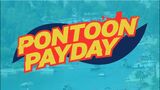 CMT: 5/14/2015-6/6/2015
Packager
495 Productions
Pontoon Payday is the first-ever game show on a boat where contestants can either get drenched in cash or just plain drenched.
Through the half-hour series, unsuspecting lake-goers are plucked from their party boats to suddenly find themselves competing on a floating game show hosted by Nicotero. If they can answer a few questions correctly, they'll win quick cash to keep their party afloat. But get the questions wrong, and they're tossed overboard with only their pride.
Ad blocker interference detected!
Wikia is a free-to-use site that makes money from advertising. We have a modified experience for viewers using ad blockers

Wikia is not accessible if you've made further modifications. Remove the custom ad blocker rule(s) and the page will load as expected.