Host
Daphne Brogdon
Broadcast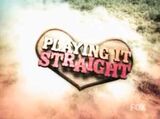 FOX: 3/12/2004 - 3/26/2004
Packagers
20th Television
Lion Television
Paddenswick Pictures
Playing It Straight
was a show in which one woman spent time on a ranch with a group of men in an attempt to discern which of them were homosexual and which of them were heterosexual. All of the men pretended to be heterosexual. The woman went on individual dates with the men, in addition to engaging in group activities with them. Over the course of the episodes, she voted to eliminate the men she believed to be gay.
At the end of the show, the woman had to choose one man. If he was heterosexual, the man and woman would split the prize money, but if he was gay, then he would receive all the money (and the woman would receive nothing).
International Versions
Edit
Countries that have previously aired their versions of Playing it Straight Include:
Australia
The Netherlands
United Kingdom

This show was cancelled after only three episodes. The show was picked up and all episodes were shown later on FOX Reality Channel.
Ad blocker interference detected!
Wikia is a free-to-use site that makes money from advertising. We have a modified experience for viewers using ad blockers

Wikia is not accessible if you've made further modifications. Remove the custom ad blocker rule(s) and the page will load as expected.