Host
Brande Roderick
Broadcast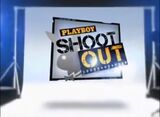 Playboy Channel: 4/3/2010–5/30/2010
Packagers
Thillville Productions
Playboy TV
Playboy Shootout (also known as Playboy Shootout Hosted by Brande Roderick) was a short-lived, adult only reality competition series in which ten amateur photographers and models teamed up and competed to be included in an upcoming issue of Playboy magazine. Ultimately, one person from each group is crowned the winner.
Adrianne Curry
Sara Jean Underwood
Andrea Lowell
Tiffany Fallon
Tracy Bingham
Ida Ljungqvist
Carmella DeCesare
Holly Madison
Bridget Marquardt
Kendra Wilkinson
Ten models and photographers pairs competed against each other in various challenges with the winner getting the chance to shoot at Playboy's famed studio West and to be featured in an upcoming issue of the magazine. Through the competition, Photographer's and models receive guidance from longtime Playboy senior contributing Photographers Arny Freytag and Stephen Waynda.
Host Brande Roderick is best known for playing as Leigh Dyer on Baywatch Hawaii in 2000. She was one of the six contestants on CBS's Gameshow Marathon in 2006, hosted by Ricki Lake and has appeared in the first season of The Surreal Life in 2003.
Judge Adrianne Curry has been on hit reality shows such as America's Next Top Model and The Surreal Life for which she met her ex-husband Christopher Knight (a.k.a Peter Brady) which led them to star in their own reality shows such as My Fair Brady on VH1 and Do Russia and its follow-up From Russia With Love on We. She also appeared as a panelist on CBS's Gameshow Marathon's Match Game episode in 2006. In June 2008, Curry and her family appeared on NBC's Celebrity Family Feud, hosted by Al Roker.
Judge Sara Jean Underwood was a former host of G4's (now Esquire Network) Attack of the Show!, where she was part of a segment of the show called The Feed.
Judge Andrea Lowell appeared in the sixth season of The Surreal Life as a cast member in 2006 and The Surreal Life: Fame Games as a contestant in 2007.
Judge Traci Bingham is best known for playing as Jordan Tate on Baywatch from 1996 to 1998. She also was on the second season of The Surreal Life in 2004 and appeared as one of the contestants on The Surreal Life: Fame Games in 2007 who was also the winner of the $100,000 Golden Palace.net grand prize.
Judges Holly Madison, Bridget Marquardt and Kendra Wilkinson are better known for starring on E! network's hit reality show The Girls Next Door from 2005 until 2010.
Official Website (WARNING: THE FOLLOWING LINK FROM THIS SITE MAY CONTAIN SOME NUDITY AND INAPPROPRIATE LANGUAGE, U.S. GAME SHOWS WIKI DISCRETION IS ADVISED.)