Hosts
Jack Smith (July-November 1953)
Jack Bailey (December 1953-January 1954)
Bill Cullen (January 1954-1955)
Announcers
Jack Narz
Bob Warren
Broadcast
NBC Primetime: 7/2/1953 - 8/20/1953, 9/18/1954 - 12/25/1954, 6/28/1955 - 9/13/1955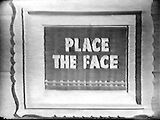 CBS Primetime: 8/27/1953 - 8/26/1954
Packager
Ralph Edwards Productions (Target Productions)
"Can you place the face this busy artist is sketching? It's lovely Joanne Gilbert, Hollywood's newest singing and dancing sensation! And oh the artist, will you turn around sir so that we can place your face? Why it's the rhumba king, Xavier Cugat! But will they be able to place faces from their past? We'll find out right now on "Place the Face"! Yes, the spring of the curl proves it's a Prom! the easy, new, self-neutralizing! home permanent and White Rain! the wonderful new lotion shampoo that leaves you hair sunshine bright present "Place the Face" starring, Bill Cullen!"
Place the Face was a panel question game show. It was a spinoff of This is Your Life.
At first, regular persons were invited to be contestants. They would seek to identify an important face from their past, perhaps a former teacher, a police officer who had given the contestant a ticket, or the person next to the contestant in the graduation line. The emcee gave the contestant clues, and he or she could pose "yes or no" questions.

Place the Face at The Bill Cullen Homepage
Game Show Utopia: Place the Face
Video Links
Edit
Ad blocker interference detected!
Wikia is a free-to-use site that makes money from advertising. We have a modified experience for viewers using ad blockers

Wikia is not accessible if you've made further modifications. Remove the custom ad blocker rule(s) and the page will load as expected.