Hosts
Nick Spano & Valarie Rae Miller
Broadcast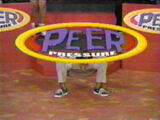 Pilot: 1996
Syndication (Weekly): 9/6/1997 – 9/1998 (with repeats until 9/2000)
Packagers
Wheeler-Sussman Productions
Kelly News Entertainment
OPENING SPIEL:
"This is (insert first contestant and info). This is (insert second contestant and info). And this is (insert third contestant and info). These three players are gonna take a wild trip around our life-sized game board as they try to survive PEER PRESSURE! And now here's the host of Peer Pressure, Nick Spano!"
Peer Pressure (later known as Pressure 2) was a short-lived game show where youths performed stunts and answered questions about moral dilemmas.
Three youths, ages 12–17, competed in this game, whose centerpiece was a life-sized board game spread out on the studio floor. One at a time, each contestant determined his/her moves via a "Magic 8 ball", which revealed a type of activity (a stunt or a moral-based question) and the number of spaces the contestant could move upon a correct answer or completion of said stunt. Landing on a "Move Ahead" space allowed the contestant to move ahead two more spaces. He/she had to move back two spaces upon landing on "Go Back". However, if the contestant ended up on those spaces when being assessed a penalty, he/she was not allowed to follow its instructions.
Activities
Edit
Four different activities were possible:
---
After each contestant had taken a turn, the host asked a "Pop Quiz" question. Correct answers allowed that player to advance three spaces, while a wrong answer (or failing to answer) meant a three-step penalty.
Final Round: "The Pressure Cooker"
Edit
After an undefined time limit, the player making the least progress was eliminated from further play. The remaining contestants advanced to the "Pressure Cooker" round, which were yes/no dilemmas (played just like "Decision"), asked in an alternating format; the player who had made the most progress on the board had the advantage of going first. The first contestant to guess three questions correctly won the game and bonus prizes.
"Seasons 2 and 3"
Edit
While Peer Pressure aired for three years, only one season's worth of episodes had actually been taped. The second and third cycles made several edits:
Trade Ads
Edit

The Production Group Studios, Hollywood, CA
Rules for Peer Pressure
Peer Pressure @ Game Show Garbage
YouTube Videos
Edit
A full episode (Peter/Nicole/Alicia) from the original cycle: