Host
Kim Coles
Broadcast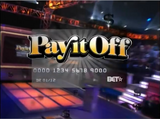 BET: 10/2/2009 - 2/26/2010
Packagers
Sokolobl Productions
Five Binks Inc./Georgia
Pay It Off was a short-lived game show on BET similar to Debt where people can win with all their bills and debts are paid off.
This unique game show is divided into five rounds with various trivia puzzles and increasing levels of difficulty within each round. As the game play progresses, the contestant has a chance to win more money to pay towards his/her debt. If the contestant makes it successfully through all five rounds, he/she then has the chance to earn $25,000 to their debts in the final bonus round.

Official Website (via Internet Archive)
YouTube Video
Edit
Ad blocker interference detected!
Wikia is a free-to-use site that makes money from advertising. We have a modified experience for viewers using ad blockers

Wikia is not accessible if you've made further modifications. Remove the custom ad blocker rule(s) and the page will load as expected.