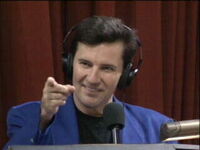 Paul Boland is a singer and impressionist who was also a game show announcer for the 1998-1999 revival of Match Game in syndication. Boland also filled in for Rod Roddy on The Price is Right on CBS for a week in 2002 during Roddy's cancer operations. Boland has also guest starred on Renegade with Lorenzo Lamas, Into the Night with Rick Deeds, The Entertainer with Wayne Newton, Mike and Maty and Home and Family talk shows.
Ad blocker interference detected!
Wikia is a free-to-use site that makes money from advertising. We have a modified experience for viewers using ad blockers

Wikia is not accessible if you've made further modifications. Remove the custom ad blocker rule(s) and the page will load as expected.