Host
Amanda Byram
Broadcast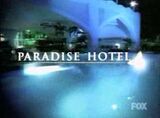 FOX: 6/18/2003 - 10/1/2003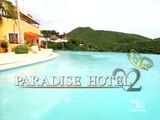 FOX Reality (Explicit Version)
MNTV (General Version):
2/4/2008 - 5/26/2008
Packager
Mentorn Productions
Paradise Hotel
(and later
Paradise Hotel 2
) was a reality show where people compete in a hotel in a tropical setting. In the show, a group of single people live in a luxurious hotel resort, competing to see who can stay in the hotel the longest. Periodically, someone is removed from the show, and others are brought in to replace them. Each week couples pair off and must share a hotel room together. One person is left over, and he or she has to leave. That person is then replaced the following episode.
International Versions
Edit
Countries that have previously aired their versions of Paradise Hotel includes:
Czech Republic
Denmark
Sweden
Hungary
Israel
Netherlands
Norway
Russia
Slovenia
Slovakia
2003—"Two Tickets to Paradise" by Michelle Ann Owens
2008—Unknown

Ad blocker interference detected!
Wikia is a free-to-use site that makes money from advertising. We have a modified experience for viewers using ad blockers

Wikia is not accessible if you've made further modifications. Remove the custom ad blocker rule(s) and the page will load as expected.