Hosts
Bruce Klassen
Mike Daniels
Tiffany Hunter
Kareen Germain
Announcer
Greg Lee
Broadcast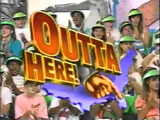 Nickelodeon: 1990-1991
Outta Here! was a Nickelodeon children's game show that had kids partake in silly and wacky games. There were two teams of kids in the audience, green & purple, with all the members on the teams wearing sun caps of their color.

YouTube Videos
Edit
A Random Episode (Note: Intro is missing)
Ad blocker interference detected!
Wikia is a free-to-use site that makes money from advertising. We have a modified experience for viewers using ad blockers

Wikia is not accessible if you've made further modifications. Remove the custom ad blocker rule(s) and the page will load as expected.