Hosts
Nate Berkus and Oprah Winfrey
Co-Hosts
Tony Gonzalez
Jamie Oliver
Malaak Compton-Rock
Broadcast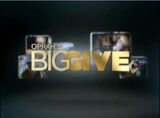 ABC: 3/2/2008 - 4/20/2008
Packagers
Harpo Productions
Profiles Television Productions
Oprah's Big Give
was a short-lived reality show starring Oprah Winfrey, a famous talk show host and philanthropist hosts this show where the one who can make the best donation will win as well.
The show is the first primetime reality series by Harpo Productions, and focuses on 10 contestants as they travel across the country with a large sum of money, and try and help people in unique ways, and participate in a series of challenges in order to become America's greatest unknown philanthropist.
In each episode, contestants travel to a different U.S. city and are given some amount of money and an assignment. Sometimes the contestants are paired or grouped, and sometimes they may act as individuals. In some cities, contestants are assigned to help a particular individual or organization, while in others they are simply told to find people in need. The contestants then have the opportunity to raise additional money in order to reach their goals. At the end of each episode, the panel of judges selects one person to go home.
At the end of the season, it was revealed to the winner that they won $1 million ($500,000 for themselves, and $500,000 to give away).
Oprah Winfrey
The show is also known as The Big Give.
Ad blocker interference detected!
Wikia is a free-to-use site that makes money from advertising. We have a modified experience for viewers using ad blockers

Wikia is not accessible if you've made further modifications. Remove the custom ad blocker rule(s) and the page will load as expected.