Host
Luke Tipple
Broadcast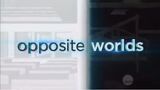 SyFy: 1/21/2014 - 2/26/2014
Packager
Eyeworks USA
Opposite Worlds is a reality competition show that transports contestants to a world where the haves and have-nots compete. Based on the Chilean format called Mundos Opuestos ("Opposite Worlds").
The series revolves around a group of strangers living in a house that is divided by a "future" and "past" theme. The contestants are divided into two teams and compete in weekly challenges to determine where they will live. One contestant (known as "The Decider") selects two contestants in a challenge, with the loser being eliminated from the game. The winner of the series determined after six weeks, will win a $100,000 prize.
International Versions
Edit
The following are a list of past and current countries that have aired their versions of Opposite Worlds including:
Chile (Country that originated the program as Mundos Opuestos)
Colombia
Croatia
Mexico
Turkey

Ad blocker interference detected!
Wikia is a free-to-use site that makes money from advertising. We have a modified experience for viewers using ad blockers

Wikia is not accessible if you've made further modifications. Remove the custom ad blocker rule(s) and the page will load as expected.