Host
Olivia Lee
Broadcast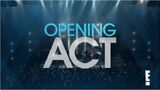 E!: 7/9/2012-9/4/2012
Packager
Nigel Lythgoe Productions
Opening Act was a short-lived reality talent show where singers who are found via the internet have only five days to prepare an opening act for a popular music performer.
Each week, producers will pick unknown musical acts that has posted their work online, surprising the artist with the chance to open a concert for acts like Rod Stewart, Brad Paisley and Nicki Minaj. the series, follows the acts as they prepare and execute their potential career-changing gigs.
Ad blocker interference detected!
Wikia is a free-to-use site that makes money from advertising. We have a modified experience for viewers using ad blockers

Wikia is not accessible if you've made further modifications. Remove the custom ad blocker rule(s) and the page will load as expected.