Host
Regan Burns
Broadcast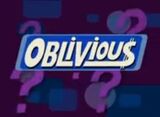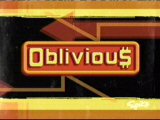 TNN/Spike: 8/1/2002-6/1/2004
Packager
Stone-Stanley Productions
Obliviou$ was a short-lived comedy game show where people are quizzed on general knowledge while on the street. It was one of those shows where people didn't know they were on.
Host Burns would take a camera crew with him and ask unsuspecting people trivia questions, while playing some sort of role. The person being asked the questions didn't know they were on TV until after Burns finished asking the questions, but usually he would do one final bit in his role before revealing the truth. For every question the contestant got correct, they received $20 in cash. Five questions usually were asked per person, for a possible $100.
The third game was a 60-second speed round of sorts, again earning $20 a correct answer.
Theme Lyrics
Edit
You might think I'm acting funny
might not take me serious
You won't know you're winning money
Cause you are oblivious

When you are oblivious
The show is also known for its moniker as "The game show you didn't even know you were on!"
Some games took place in a Taco Bell. When correct answers were given there, the "BONG!" sound from the company's commercials was used rather than the generic Stone-Stanley bell. A wrong answer still used the standard SS buzzer.
International Versions
Edit
In Germany, it had two versions airing on ProSieben, the first version was called Keine Ahnung? (No Idea?) hosted by Mario Barth from 2003-2005. Prior to this, the second version was called Ahnungslos (Clueless or Unsuspecting) hosted by Joko Winterscheidt and Klass-Heufer-Umlauf in 2010.
In the United Kingdom, It aired on ITV hosted by Davina McCall for a brief period in 2001. Prior to this, their was even a celebrity edition called Oblivious Popstars in 2003.
Ad blocker interference detected!
Wikia is a free-to-use site that makes money from advertising. We have a modified experience for viewers using ad blockers

Wikia is not accessible if you've made further modifications. Remove the custom ad blocker rule(s) and the page will load as expected.