Nicole Lyn


Name:
Nicole Stephanie Danielle Lyn-Hill
Born:
February 24, 1978
Occupation:
Actress, DJ
Nicole Lyn
(born 
Nicole Lyn Stephanie Danielle Lyn
; February 24, 1978) is a television actress and professional music DJ. Lyn is best known for her role in 
Student Bodies
, a Canadian teen comedy sitcom.
Personal Life
Edit
Lyn was born in Brampton, Ontario, to Cherl Gabay, a Jamaican woman of African decent, and Peter Lyn, a Jamaican man of Chinese and European Decent. 
Lyn grew up in the Toronto, Canada area. As a child, Lyn danced in the National Ballet School's Junior Dance division, and was also a member of the Canadian Children's Opera Chorus. Lyn entered show business when she was offered a spot on a Jordache billboard after accompanying her aunt, a model, to hr audition.
On July 10, 2004, Lyn married Dule Hill, an actor on The West Wing and Psych. On November 12, 2012, Dule filed for legal seperation from Lyn citing inconcilable differences.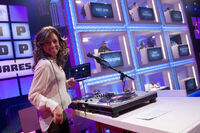 Lyn auditioned for and was admitted to Claude Watson School for the Arts at age 10. Lyn worked filming commercials, guest starring roles, and had a co-starring role on the Canadian kid-com Eric's World (1991). Lyn later auditioned for and attended Cardinal Carter Academy for the Arts in Toronto from grade 7 thru 9, where she was a dance major.
Lyn later moved to Jamaica (where her father resides) in 10th grade and attended Belair High School in Mandeville.
One of her first auditions upon returning to Canada was for a YTV Teen comedy called Student Bodies (1997) on which she landed a leading role alongside Jamie Elman, Katie Emme Mclninch, Ross Hull, Jennifer Finnigan and Mark Taylor.
Lyn made her acting debut in the television series Ramona. Lyn has also made television apperances in: The Kids In The Hall, Are You Afriad of The Dark?, Relic Hunter, Andy Richter: Controls the Universe, My Secret Identity, The West Wing, Half & Half and Psych.
Lyn has appeared in television films such as On Thin Ice: The Tai Babilonia Story, Dying to Dance, the Showtime miniseries Anne Rice's The Feast of All Saints, and she appeared in the feature film Deliver Us From Eva.
Currently, Nicole Lyn (Hill) under the music name as "DJ Ms. Nix", serves as the announcer of MTV2's Hip Hop Squares.
Ad blocker interference detected!
Wikia is a free-to-use site that makes money from advertising. We have a modified experience for viewers using ad blockers

Wikia is not accessible if you've made further modifications. Remove the custom ad blocker rule(s) and the page will load as expected.