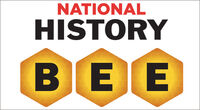 The televised finals of the National History Competition. The top scorers, one from each of 32 regions, qualified for a two-day National Championship held in Washington, D.C. on May 11-12, where one young scholar walked away with a $50,000 scholarship and a national championship title.
Broadcast
Edit
History 05/2012
Blink Productions
Al Roker
Bryan Unger

Bob Harris
Rutledge Wood

Preliminary Rounds
Edit
16 contestants divided up into two groups of eight were asked a series of toss-up questions about history. They must wait for the question to finish before buzzing in to answer the question. A correct answer scored one point, but an incorrect answer eliminated that player from the next question; also an incorrect answer gave the other players a chance to answer that question. Only two players can answer each question. The first four contestants in each group to score five points advanced to the Quarter Finals round.
Quarter-Final Round
Edit
Played the same as the Preliminary Rounds. The first four to five advanced to the Semi-Finals.
Semi-Final Round
Edit
Played the same as before except it is now played to 10 points. The first two contestants to reach 10 moved on to the Finals.
Final Round
Edit
Played as the other rounds except with these differences:
Contestants can no longer wait for the entire question to be read; they can buzz in at any time.
There was no longer a penalty for incorrect answers. Both players get to play every question. Wrong answers allowed the opponent to hear the whole question.
The first player to reach 10 points won the $50,000 scholarship from Houghton Mifflin Harcourt.
Ad blocker interference detected!
Wikia is a free-to-use site that makes money from advertising. We have a modified experience for viewers using ad blockers

Wikia is not accessible if you've made further modifications. Remove the custom ad blocker rule(s) and the page will load as expected.