Hosts
Nancy O'Dell (2003-2004)
LeAnn Rimes and Cledus T. and Wyonna Judd (2005)
Cowboy Troy (2006-2007)
Jewel (2007)
Billy Ray Cyrus and Katie Cook (2008)
Broadcast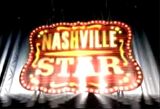 USA Network 2003-2007, NBC 2008
Packagers
Reville Productions/495 Productions
Distributor
NBC Universal Television
Nashville Star was a country style singing version of American Idol.
Robert K. Oermann (2003)
Tracy Gershon (2003-2004)
Charlie Robison (2003)
Billy Greenwood (2004)
The Warren Brothers (2004)
Phil Vassar (2005-2006)
Anastasia Brown (2005-2007)
Bret Michaels (2005)
Randy Owen(2007)
Blake Shelton (2007)
John Rich, Jewel, and Jeffrey Steele (2008)

The show was similar to American Idol, in that performers had to sing to impress both celebrity judges and the public via call-in and/or internet votes. Unlike American Idol, however, the performers were limited to country music. This restriction was relaxed for Season 6, allowing for the finalists to choose from many genres of music, but the songs were arranged to maintain a country sound. The winner of the game received prizes such as a record contract (Sony in seasons 1 & 2, Universal South Records in season 3, RCA Label Group in season 4, and Warner Bros. Music in the final season), a performance at the Grand Ole Opry, and a pick up truck (Chevy from 2005-2007, Toyota in 2008). The final season also awarded the winner a performance at the 2008 Olympic Games in Beijing, China. The top 4 finalists each season have been involved in "The Nashville Star Tour", where they perform together on a tour of small venues for a few months following the season.
Some contestants appeared more than once during different seasons. People like Kenny Rogers, Patti Labelle, and David Foster were returning contestants.
Critics called this show a rip-off from American Idol.
Ad blocker interference detected!
Wikia is a free-to-use site that makes money from advertising. We have a modified experience for viewers using ad blockers

Wikia is not accessible if you've made further modifications. Remove the custom ad blocker rule(s) and the page will load as expected.