Host
John Roberts
Teammates
Kyle Petty
Rutledge Wood
Broadcast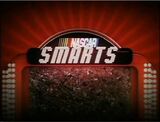 Speed Channel: 2/6/2009 - 11/20/2010
NASCAR Smarts was a simple quiz show dedicated to the world of NASCAR and racing.
Test your knowledge of all things NASCAR with this informative series that pits two lucky fans at trackside in a trivia contest.
Ad blocker interference detected!
Wikia is a free-to-use site that makes money from advertising. We have a modified experience for viewers using ad blockers

Wikia is not accessible if you've made further modifications. Remove the custom ad blocker rule(s) and the page will load as expected.