Host
Monica Lewinsky
Bacherlorette
Hayley Arp
Broadcast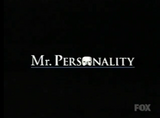 FOX: 4/21/2003-5/19/2003
Packagers
The G Group/Nash Entertainment
Mr. Personality was a short lived five episode only reality dating series where a single woman seeks a soul mate from among 20 masked men.
A young, beautiful and single woman (Hayley Arp) will court several eligible men who must rely strictly on their individual personalities to captivate her.
David Vanacore
Bruce Nash

Ad blocker interference detected!
Wikia is a free-to-use site that makes money from advertising. We have a modified experience for viewers using ad blockers

Wikia is not accessible if you've made further modifications. Remove the custom ad blocker rule(s) and the page will load as expected.