Broadcast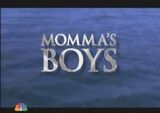 NBC: 10/16/2008 - 1/19/2009
Momma's Boys
was a short-lived reality show that centers a group of mothers who must help choose the perfect woman for their complacent sons.
International Versions
Edit
Countries that have previously aired their versions of Momma's Boys includes:
Arab World
Hungary
India
Italy
Sweden
Turkey

The show is created and excutive produced by Ryan Seacrest (American Idol).
Ad blocker interference detected!
Wikia is a free-to-use site that makes money from advertising. We have a modified experience for viewers using ad blockers

Wikia is not accessible if you've made further modifications. Remove the custom ad blocker rule(s) and the page will load as expected.